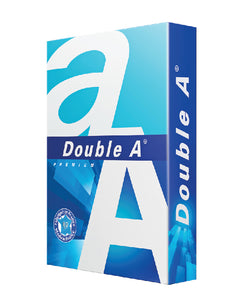 A4 pack of 500 sheets 
A3 pack of 500 sheets 
Manufactured from 100% farmed trees planted along Thailands rice paddies

Double A is a premium paper known for its high quality, superior performance and sustainability.

Double A precision rotary paper cutting machines significantly reduce paper jams in copiers, as proven in an exacting "no jam" runnability test.
Double A's smooth surface supports excellent toner transfer, making copies as sharp and detailed as the original.
The ultra-white appearance is ideal for high print contrast and fade-resistance.
The high opacity and excellent quality resulting from Double A's high quality fibre allows double-sided use.
.