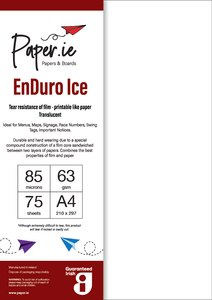 ENDURO Ice has the classy appearance and elegant feel of transparent paper but enables a host of new applications due to the film core inside.
Calendar cover sheets – that do not become wavy
Book covers and banderoles – that are tear resistant
Insert sheets – that do not tear out or protrude due to moisture
Transparent envelopes – that do not tatter in the sorting plant
Packages – translucent in an elegant and sophisticated design
Covers and folders – cool look and feel combined with perfect functionality
Products made of ENDURO are durable and hard-wearing. This is made possible by a special material composite with a core of foil surrounded by two layers of paper. This way ENDURO combines the best properties of paper and foil: It can be processed like paper, printed and written on perfectly.
Due to the multilayer product structure, ENDURO offers in many cases an inexpensive and ecologically sustainable alternative to synthetic papers.

 

.