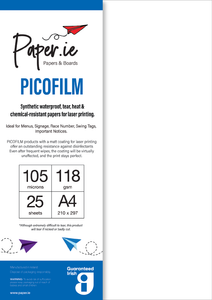 Synthetic waterproof, tear, heat & chemical-resistant papers for laser printing.
Ideal for Menus, Signage, Race Number, Swing Tags, Important Notices.
This high-quality coated film surface offers optimised printing results.

Smooth surface.

Weather-resistant, chemical-resistant, temperature-resistant and dimensionally stable.

Can be cut, punched, perforated and drilled without issue.

Suitable for hot foil stamping and laser cutting.
118gsm = 25 sheets per pack155gsm = 25 sheets per pack260gsm = 20 sheets per pack370gsm = 15 sheets per pack485gsm = 10 sheets per pack
RESISTANCE AGAINST DISINFECTANTS

Our PICOFILM products with a matt coating for laser printing offer an outstanding resistance against disinfectants – much better than many competitor materials as internal tests showed.

Even after frequent wipes, the coating was virtually unaffected, and the print stays perfect. We tested with different isopropanol-, ethanol- and sodium hypochlorite- based disinfectants.

Especially in times of Covid-19 printed products like menus and signs are frequently disinfected. In such circumstances it is important that the print stays intact / the toner will not be rubbed off. 

.