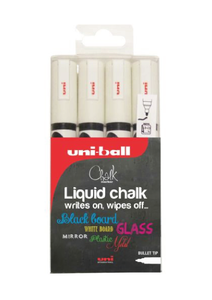 The UniChalk Marker is a non-permanent marker pen, which writes on and is easily removed from chalk boards, windows and other non-porous surfaces, including metal and plastic.
With a 1.8-2.5mm line width, these markers use water-based paint to create vivid coloured writing with a medium bullet tip, ideal for creating eye-catching displays.
For writing that is weather resistant, but which can be easily cleaned off with a damp cloth, choose a Uni Chalk Marker.
This pack contains four white chalk markers.
Non permanent marker for windows, chalk boards, metals, plastics and other non-porous surfaces
Creates weather-resistant writing
Great for creating vivid displays
Medium 1.8-2.5mm bullet tip
Ink colour: White
Pack of 4
.